Snow Removal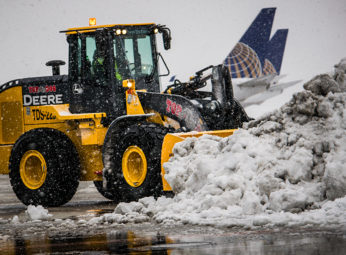 Top Dog's snow and ice management services range from large snow melting operations utilizing Trecan PD-135 melters to sidewalks and parking lots.  We currently provide snow and ice removal services under various competitive contracts at Washington Dulles International Airport (land-side and airfield), Ronald Reagan Washington National Airport (land-side and airfield), Five Star U-Street Parking, United Airlines, Tipton Airport Authority (land-side and airfield), Maryland Department of Transportation, Virginia Department of Transportation, Dulles Toll Road, secure government facilities, several small businesses, shopping centers and school campuses.
Top Dog also provides emergency snow removal services during extreme winter snow events.  In 2015, Top Dog spent 2 weeks in Boston, Massachusetts assisting the City of Boston and State of Massachusetts with snow removal using our large snow blowers and dump trucks.  Our ability to quickly mobilize to your location during extreme winter snow events reduces the paralyzing effects of extreme storms.
We pride ourselves on our ability to deliver consistent outstanding customer service, excellent communication, reliability, and a commitment to safety.  This pledge forms the basis for our corporate core values and is the cornerstone of our organizational effectiveness.
Contact us at info@topdogservices.com to schedule a site survey or discuss your unique snow and ice management needs.