Brine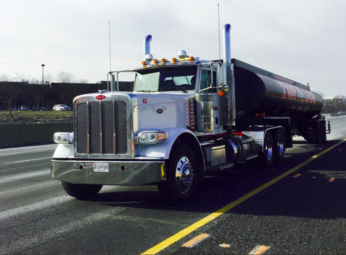 Top Dog's has been producing and applying brine on highways and roads since 2011 using state of the art equipment.  Our brine operation is carefully calculated to assure automated computerized hydrometer readings of 23.3% salt to water solution. This brine to water ratio has demonstrated that it melts snow and ice on pavement to 15 degrees Fahrenheit. Salinity logs are meticulously maintained for accuracy and accounting purposes.
The automated brine mixer utilizes a corrosion inhibitor with a ratio of 85% Brine and 15% additive (corrosion inhibitor) for each load and is carefully documented through a printout log which includes the dates and number of gallons stored.
Each liquid anti-icing truck is equipped with speed sensors capable of applying the solution on roadways between 40 and 60 gallons per lane at varying speeds. The equipment is calibration certified once every three call outs. Each truck holds a minimum of 1,000 gallons of liquid anti-icing solution and has a fully automatic 3-lane boom with speed control sensors.
We have capability to produce and sell brine to your agency or organization by the gallon allowing you to apply in-house.  Or, we can provide both the brine and the application of the solution.
Some of our current customers include, Washington Dulles International Airport, Ronald Reagan Washington National Airport, Dulles Toll Road, State of Maryland Department of Transportation.
Contact us at info@topdogservices.com to discuss your unique needs or for further information.