Janitorial Services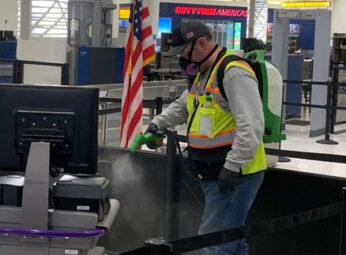 Top Dog Services professionals are uniquely prepared during this unprecedented time to clean and disinfect your business according to the protocols set forth by the CDC. AS A MEMBER OF THE INTERNATIONAL SANITARY SUPPLY ASSOCIATION (ISSA), TOP DOG SERVICES FOLLOWS THE INDUSTRY STANDARDS SET BY THE ISSA  AND THE GLOBAL BIORISK ADVISORY COUNCIL (GBAC). We have experience in dealing with biological contaminants, and we will go beyond the scope of work that regular janitorial staff perform on a daily basis. We are trained to perform a proactive cleaning that utilizes the use of electrostatic disinfecting sprayer machines on your facility or structure. We also provide manual biomass reduction and surface cleaning. Cleanup procedures generally include cleaning of porous and non-porous surfaces, disinfecting of non-porous surfaces, cleaning and disinfecting of equipment, tools, and/or supplies used for cleanup process, and disposal of waste.

The CDC encourages cleaning of high-touch surfaces such as counters, tabletops, doorknobs, light switches, bathroom fixtures, toilets, phones, keyboards, tablets and tables. Other spaces mentioned in the CDC's guidance for commercial spaces include:
Kitchen/Food Areas
Bathrooms, Schools/Classrooms
Offices, Retail Spaces
Water Fountains
Shelving/Racks
Sales Counters
Carpets and Rugs
Stair Handrails
Elevator Cars
Playground Equipment
Fitness Equipment
Specialized Products/Disinfectants
Clorox® Total 360® Electrostatic Sprayer
Electrostatic Technology enables sanitizers and disinfectants to reach side, underside and backside of surfaces
Clorox® Total 360® Disinfectant Cleaner
Clorox® Anywhere® Hard Surface Sanitizing Spray
CDC Approved and EPA Registered
Coverage per machine – 18,000 square feet an hour
Victory Innovations Co. VP300ES Professional Cordless Electrostatic Backpack Sprayer
Victory Innovations Co. VP200ESK Professional Cordless Electrostatic Handheld Sprayer
Betco pH7Q – Natural pH Disinfectant, Germicidal Detergent Effective against antibiotic resistant strains, VRE and MRSA
Fiberlock Shockwave 8310 – Disinfectant, Virucide, Fungicide
Top Dog Services follows the CDC recommendations on the usage of a labeled hospital-grade disinfectant with claims against similar pathogens to the coronavirus. Multiple products carry the EPA-approved emerging pathogens claims. We are following all guidelines as provided by the CDC and local authorities.